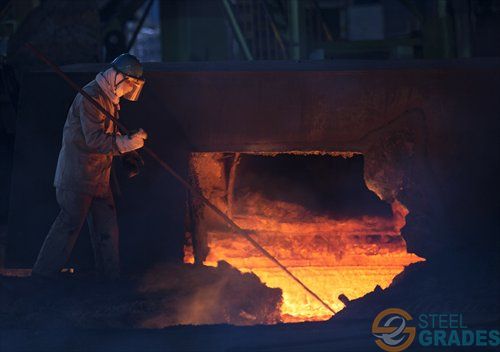 China's state-owned Ansteel Group is planning a strategic consolidation with regional rival Benxi Steel Group, known as Bengang, a move that could form China's second-largest steelmaker, Bengang's Shenzhen-listed unit said Thursday.
The restructuring, which may result in a change of control of the company, is still in the planning stage, subject to the approval of related government departments, Bengang Steel Plates Co. Ltd. (000761.SZ) said in a statement.
This would be the second attempt for the two steelmakers to consolidate in 16 years. The two companies announced a merger in 2005 but were unable to complete it. As Ansteel is owned by the national state-assets regulator and Bengang is owned by the local regulator, they couldn't agree on an asset-reorganization plan, and the merger was limited to consolidation of financial statement, without an actual integration.
Ansteel, China's No.4 steelmaker, and Bengang, which ranks No.9, are both based in the northeast province of Liaoning. In 2020, Ansteel's crude steel output was 38.2 million tons, while Bengang produced 17.4 million tons.
After a merger, the two companies will have a combined steel output of more than 55 million tons, exceeding the current second- and third-largest steelmakers Hesteel Group (000709.SZ) in Hebei province and Shagang Group (002075.SZ) in Jiangsu province, becoming the second- largest steel maker only after Shanghai-headquartered China Baowu Steel Group (600019.SH).
As of the end of September 2020, Ansteel had total assets of 348 billion yuan ($53 billion) and debt of 227.4 billion yuan. Bengang had total assets of 164.4 billion yuan and debt of 121.4 billion yuan. The combined company will have total assets of more than 500 billion yuan.
In a five-year economic blueprint published earlier this month, the Liaoning government vowed to push forward the restructuring of the two companies to make a "world-class steel enterprise".
During China's annual legislative and political meetings known as the "Two Sessions" in early March, Ansteel Chairman Tan Chengxu said in an interview that the group will step up merger and restructuring in the next five years, aiming to boost its crude steel output to 70 million tons, revenue to 300 billion yuan and profit to 10 billion yuan.
China, the world's largest steel producer, has been pushing steel companies to consolidate and compete with global giants. The campaign is also being driven by local governments that want to unload responsibility for overseeing inefficient local steelmakers.
Much of China's steel output is sold at home for use in the country's huge buildup of new infrastructure like roads, real estate and electrical grids. But the industry has remained highly fragmented due to geographically scattered manufacturing.
The nation had about 300 companies capable of steel production at the end of 2019, according to the China Metallurgical Information and Standardization Institute. But its top 10 producers accounted for just 36.8% of the nation's total output, which was far below levels seen in mature economies like the U.S., Europe and South Korea.
In 2016, the State-Owned Assets Supervision and Administration Commission (SASAC), which oversees government enterprises, the National Development and Reform Commission and the Ministry of Industry and Information Technology jointly submitted to the State Council a draft plan to use mergers and acquisitions to form two or three steel industry leaders by 2025. Each would have more than 80 million tons of annual capacity. Regulators seek to consolidate more than 60% of the country's steel capacity in the hands of its top 10 steelmakers.
The biggest steelmaker Baowu Steel was created by the merger of Baosteel Group with Wuhan Iron & Steel Group (WISCO) in 2016. Since then Baowu continued four years of breakneck merger-fueled growth that has created the world's largest steelmaker. Shagang Group and Hesteel also went through a series of mergers and acquisitions.
Besides the state-owned steel enterprises, private-sector steelmakers are also stepping up mergers and reorganization. In January, Beijing-based private steel conglomerate Beijing Jianlong Heavy Industry Group Co., Ltd., China's No.4 steelmaker, took over the management of Hebei steel firm Xingtai Iron and Steel Co. Ltd., boosting its capacity to 40 million tons.